Gromit Unleashed raised £3.8m for hospital charity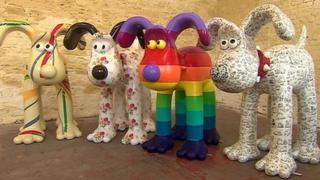 An arts trail in Bristol of 5ft high Gromit sculptures has raised £3.8m for the Bristol Children's Hospital Charity, organisers have revealed.
Eighty-one of the dogs based on the famous Aardman character, were decorated by artists and celebrities and seen by more than 1m people.
Money raised by Gromit Unleashed will go towards new equipment and services at Bristol Children's Hospital.
Appeal director Nicola Masters said the support had been "brilliant."
The Gromit sculptures, which each weighed about 90lb (40kg), were on show in and around Bristol from 1 July to 8 September until they were sold at auction.
Wallace and Gromit's Grand Appeal said 1.18 million people saw the sculptures, with about 900,000 visiting the city specifically to see them.
Aardman plans to set up another project in 2015 involving Shaun the Sheep.