Bristol parking row traders drive tank through streets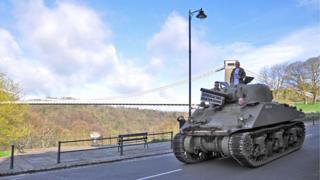 Traders angry with plans for a residents' parking zone in Bristol have driven a 1942 Sherman tank around the streets of Clifton in protest.
Mayor George Ferguson wants to roll out the city-wide scheme to deter commuter parking on residential streets.
Organiser Tony Miles said they had chosen a tank because it represented a way of "defending your territory".
On learning about the protest, Mr Ferguson tweeted: "This is getting ridiculous".
'Mind boggles'
"Hardly the best way of winning over the good residents of #Clifton," he wrote.
Mr Ferguson wants to implement a blanket roll-out of parking zones within 18 months, with residents paying between £48 and £96 for permits.
The tank, which was hired from a Gloucestershire firm, was driven from the Suspension Bridge, past the Avon Gorge Hotel, round Caledonia Place and back down West Mall.
Police have said it was legal to drive a tank in the street provided the driver had the appropriate licence and insurance.
Mr Miles said the protest "wasn't just about boys' toys" but to get a "serious message" across.
"The good people of Clifton are speaking out that something has to be done about parking," he said.
"George said it is not winning over the people of Clifton, but we have a united voice telling him 'we want you to listen'."
Last week several hundred traders and residents marched to City Hall in an attempt to urge Mr Ferguson to rethink his proposals.
"We've chosen the tank because it represents power and a way to defend your territory when you go to war," Mr Miles said.
Mr Ferguson admitted he had laughed at the tank "prank".
"The mind boggles at them trying to navigate it through some of our streets, which currently suffer from particularly inconsiderate parking," he said.
Responding to claims he was not listening to Clifton people, the mayor said: "Proposals for Clifton Village have had over 90 changes made following informal consultation - driving a tank through the argument that this is a 'one size fits all' approach."