Bristol City Ashton Gate £40m ground revamp begins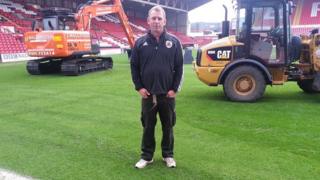 Work has started on the £40m redevelopment of Bristol City's Ashton Gate stadium.
Building work is expected to take two years but the team will continue playing at the ground.
The first stage involves digging up the surface and relaying it with a part-turf, part-plastic pitch.
Grounds manager Craig Richardson said: "I'm keen to get started, we've got six weeks to get the pitch constructed, so time is quite crucial really."
Root zone lift
The pitch will also be moved by 16ft (5m) sideways as part of the redesign which involves knocking down and rebuilding the Wedlock and Williams stands.
The other two stands, Atyeo and Dolman, will be refurbished and altered.
"We're going to take the grass surface off, then the diggers are going to lift up the root zone and we're going to transport that and stick it at our Failand training ground and build a pitch there," added Mr Richardson.
The pitch type is the same brand used at Wembley and at number of Premier League clubs. It will also be strong enough to withstand both football and rugby being played on it.
Bristol Rugby Club will be playing at the new pitch next season, when it is not being used by Bristol City.
The redevelopment is the first since 1996 when the Atyeo stand was built to replace an old, open terrace.
The revamp plan is an alternative to proposals to build a new stadium at nearby Ashton Vale, which has been delayed by an application for a town green.
The stadium work was approved by Bristol City Council in November.