MP joins Bristol Southmead Hospital parking row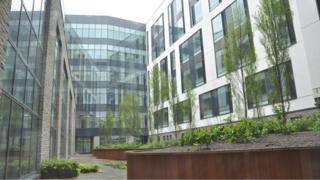 Claims of parking shortages at the new £430m Southmead Hospital has prompted a local MP to investigate the issue.
Charlotte Leslie, Conservative MP for Bristol North West, said the problem affected staff, patients and visitors.
Ms Leslie said: "It's a shame we've spent all this money on this super hospital and right at the beginning we have massive parking issues."
Hospital directors say they are encouraging more staff to leave their car at home to free up more spaces.
'Priority parking'
The hospital has also said four out of the five floors in the multi-storey car park are available for patients and visitors.
Chief Executive of North Bristol NHS Trust, Andrea Young, said: "The important policy decision we've taken about this hospital is that we have planning permission for 2,700 parking spaces.
"The priority has to be patients and their visitors - that's what hospitals are for."
The hospital added that the number of spaces would increase to 2,700 by autumn 2015.
They also said although there were problems initially, since the extra spaces in the multi-storey were freed up there was enough capacity throughout the day.
A disabled patient also told the BBC about being left stranded at the main hospital site after 20:00 as the shuttle service to the multi-storey had ended by then.
The hospital said it was sorry and now plans to extend the shuttle service until 21:00.
Ms Leslie has said she has written to the hospital to find out staff number projections over the next 10 years to see if the problem could get worse.