Bristol Mayor Ferguson faces 'no confidence' debate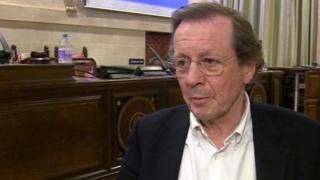 Bristol Mayor George Ferguson is to face a council debate over his leadership following a petition.
The online petition was set up a year ago in the ongoing row over the mayor's plans to introduce residents' parking schemes across the city.
The petition, which needed 3,500 signatures to trigger the debate, passed the threshold at the weekend.
Mr Ferguson told the BBC the petition was "not worth the paper it's not written on".
E-petitions run on Bristol City Council's website and can be started by anybody.
The petition was set up by resident Martin Cornes who said the parking schemes "may ultimately see businesses closing and companies relocating".
Mr Cornes said residents' parking zones may also lead to "the general decline of house prices and the city's wealth".
He can now choose to close the petition, which will enable the debate to be scheduled in the council's diary, or allow it to run until 27 June - when it was due to end - to automatically trigger a debate being arranged.
'Less real opposition'
Mr Ferguson said he was "greatly encouraged" by the fact it had taken more than a year to reach 3,500 signatures.
"Quite honestly the only vote of confidence that matters comes from the 325,000 registered electors of Bristol in May 2016," he said.
"[It is] indicating much less real opposition from within Bristol than I would have imagined.
"I've always been clear that RPS (residents' parking scheme) is not a one-size-fits-all scheme and we are engaging with the public step-by-step in different places."
As a directly-elected mayor, Mr Ferguson cannot be ousted from office whatever the debate's outcome.
Mr Ferguson, an independent, became Bristol's first directly-elected mayor in November 2012.
As part of his manifesto ahead of the election he said he wanted to improve the city's transport infrastructure.
Mr Ferguson said the roll-out of the parking schemes was aimed at trying to stop commuters parking in residential streets.
Liberal Democrat councillor Chris Martin said the petition showed a "problem" with the "structure of the council".
He said parking schemes should be tailored for each area and districts should not have zones "dictated" to them.