Quitting teacher Lucy Fey critical of Michael Gove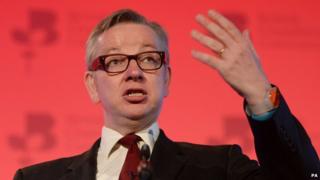 A teacher has written a scathing open letter to Education Secretary Michael Gove outlining her reasons for quitting the profession after 14 years.
Lucy Fey, who works in an inner-city school in Bristol, posted the letter on the Teacher Roar section of Facebook.
She wrote Mr Gove's focus on targets places children under "huge" pressure.
The Department for Education (DfE) said it made "no apologies" for expecting primary pupils to achieve a good standard of reading, writing and maths.
'Buzzing pupils'
Ms Fey posted the open letter on Teacher Roar which hosts material critical of Mr Gove's policies.
She said she had decided to quit because she could no longer watch those pupils failing to meet the expected standard in the "three Rs" of writing, reading and maths.
In the letter, she wrote: "There is nothing better than a class full of buzzing pupils, excited about what they are learning.
"There is little time to have fun, to enquire, to be intrigued, to be children. They have too much pressure. They must, 'compete with the world's best'," Ms Fey said.
"How will all those talented people who are not necessarily 'academic' excel in their different industries if they were not given the opportunity to hone their skills throughout their education?
"How will this improve our country? What sort of adults will they turn in to?
"I handed my notice in last week. I can't do this to them any more," she added.
A DfE spokesman said: "We are determined to eradicate illiteracy and innumeracy and it is vital we continue to set high aspirations for all schools and pupils,
"All the evidence shows that if you start behind, you stay behind."