Firm to cease operations at dock in Bristol after fly infestation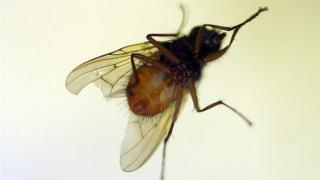 A waste recycling firm has been stripped of its permission to operate at Avonmouth Dock in Bristol.
The Environment Agency (EA) acted after ruling that the company, Boomeco, was responsible for a series of fly infestations plaguing nearby homes and businesses
The firm was storing bales of waste at the dockside prior to export.
The EA said the firm's actions had failed to solve the problem and permission had been withdrawn.
The company, which deals with tens of thousands of tonnes of household waste a week, had permission to temporarily store waste at the dock, provided they "met certain requirements".
'Flies still present'
"We have been working very closely with Boomeco Ltd over the last couple of weeks to ensure they resolve the issues at their site," an EA spokesman said.
"It has taken a range of actions, and there was an initial decline in the number of flies on site.
"However, as the problems have persisted and the flies are still present, we told them that we have withdrawn their permission to conduct their current operations."
Charlotte Leslie, Conservative MP for Bristol North West, said the action was "really welcome" but was calling for the company to "put some money into a pot to help residents".
"It shouldn't be the people who have been inflicted by other organisations who have to pay to get their houses rid of flies," she said.
Boomeco was contacted for comment but has yet to respond.