Bristol mayor George Ferguson reshuffles cabinet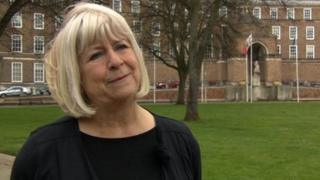 A former leader of Bristol City Council has stepped down from her role as an assistant mayor to George Ferguson.
Barbara Janke's resignation was accepted by the mayor as part of a few changes to his cabinet.
Mr Ferguson said she wanted to devote more time to her Liberal Democrat councillor duties in the Clifton ward, for which he had "tremendous respect".
All of the other cabinet members remain although some have been included in a portfolio reshuffle.
Extra support
The planned cabinet for the next year is:
Geoff Gollop: Deputy Mayor - with overall responsibility for budgetary control
Mark Bradshaw: Assistant Mayor for Place, to include transport and regeneration
Brenda Massey: Assistant Mayor for People, to include education and social services
Gus Hoyt: Assistant Mayor for Neighbourhoods, to include health, sports and leisure
Simon Cook: Assistant Mayor for Business Change, Resources and Culture
Mr Ferguson, who is in his second of four years as elected leader of the council, said he was also bringing in four more councillors to give extra support to the cabinet members.
The changes are due to be formally confirmed by the mayor during a council annual general meeting on 10 June.