Tobacco taken during Leyhill prison break-in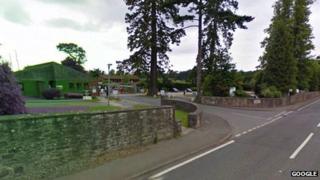 Thieves broke in to a prison near Bristol twice and stole thousands of pounds worth of "tobacco products", the BBC has learned.
During the first raid, £25,000-worth of tobacco was stolen from a courier depot at HMP Leyhill in April 2013.
In a second ram-raid, which happened in October, thieves took £10,000 of tobacco while staff were "responding to a fire alarm".
Police said they had recovered a car but have not made any arrests.
A force spokesman said the Gloucestershire prison had "reported damage caused by a vehicle driving through metal barriers and colliding with a building at HMP Leyhill".
A spokesman for HMP Leyhill said: "Last year a quantity of tobacco products were stolen from HMP Leyhill and the matter was reported to the police for investigation.
"Such items are purchased by prisoners using their own money."
The prison said it has tightened up security since the break-ins.