Bristol Harbour railings opposed by tourism board at fatal crash site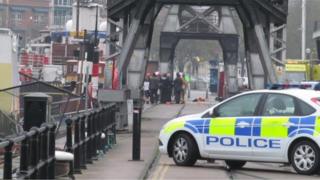 Bristol's tourism board was among groups that opposed harbour railings that could have saved a cyclist who fell and drowned, the BBC has learned.
Sean Phillips's bike got stuck in a sunken rail line and he was catapulted into the water close to the M-Shed museum in March 2013.
But Bristol City Council had been aware of safety concerns for a decade.
Destination Bristol, heritage groups and several councillors claimed the railings were not necessary.
Destination Bristol said it would not be commenting but a Bristol City Council spokesman said safety around the Harbourside was "extremely important" and it had "worked to sensibly balance the risk".
'Disproportionate'
In emails obtained by the BBC, Destination Bristol's board said it was worried railings would "seriously undermine the heritage value of the site".
Six months before the fatal accident the organisation said a risk assessment had shown "no records of anyone involuntarily falling into the docks" and that the measure would be "disproportionate to the risk".
Following 40-year-old Mr Phillips' inquest in March, Bristol City Council began to make safety improvements to the area.
But documents written up to a month before the father-of-two died warned of the risk of a "serious and possibly fatal" event in the area.
And another briefing, written weeks before Mr Phillips died, said managers of the council-owned M-Shed were "reluctant to see railings".
It said they "would detract from the historic nature of the site" and could introduce "additional risks".
But the council was told it would be "impossible to defend any action" brought as the result of a fall if "health and safety advice" had been ignored.
A council report from 2003 noted cyclists "frequently" fall "usually as a result of trapping in sunken railway lines" which could put them at "risk of falling in the water".
But a council spokesperson said "following multiple assessments" the authority had implemented the recommendations of the Royal Society for the Prevention of Accidents (RoSPA).
"We implemented the RoSPA recommendations to reduce risks to the many different users, including cyclists, pedestrians and boat users," he said.
"This included fresh signage, a new cycle route behind the M-Shed, clear advice to museum visitors, improved ground markings and new life-rings."