Bristol student abandons unaided Pacific rowing attempt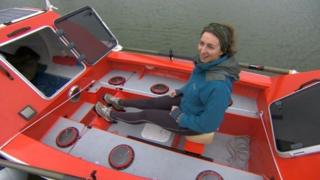 A student has abandoned her attempt to row 2,400 miles (3,800km) across the Pacific from California to Hawaii.
Elsa Hammond, 29, began her challenge on 7 June and hoped to be the first European woman to complete the Great Pacific Race.
In a statement she said was "disappointed not to be completing" the race but blamed "tricky conditions" for the decision.
The Bristol student will now head to Mexico to avoid bad weather.
According to the online tracker on Miss Hammond's website, she is currently several hundred miles west of the Mexican state of Baja California having set off from Monterey, near Santa Cruz.
Seven other competitors are on course to make it to Hawaii.
Race director Chris Martin said: "We are sad to hear that after more than a month of battling against adverse weather conditions Elsa has decided to postpone her row to Hawaii.
"We commend her in making a very difficult decision and having the dedication to complete her current journey by touching land under her own power."
Not 'clockwork'
Miss Hammond said she had been having difficulties in rowing westwards due to headwinds for the past couple of days.
This meant she had been pushed further south than she wanted.
Even if she managed to push westwards, the area of ocean she would be rowing in would be dangerous.
She added: "Particularly at sea, adventures don't always work like clockwork and it is far better to be sensitive to this and to make proactive decisions than to blindly ignore it and try to force the original plan regardless."
She is continuing to collect samples of water for a plastic pollution research project.