Bristol parking control petition handed in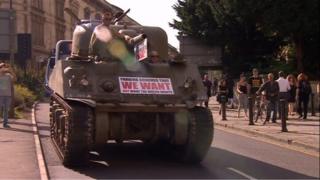 Protesters drove a tank through Bristol for a second time as they handed in a 5,000 strong petition against plans to roll out resident parking zones.
So far four zones have been rolled out across the city and a further 10 are set to be brought in by next spring.
Protester Tony Miles said: "People feel that they have not had full consultation."
Mayor George Ferguson, who is behind the parking plans, described the tank manoeuvre as "a hilarious stunt".
'Not anti-car'
Mr Ferguson added: "It does make the point that the car lobby will do absolutely everything - and I'm not anti-car."
Along with the petition, a motion of no confidence in the mayor will also be heard at the full council meeting.
The petition calling for Mr Ferguson to step down over his handling of the parking plans surpassed the 3,500 trigger point, at which it must be debated.
However, it will not affect the mayor's term in office as it has no legal standing.
The protesters previously drove a tank through the streets in April.