Bristol grandparents wanted for generational health study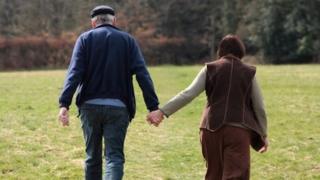 One of the largest population studies in the world now wants the grandparents of the original children to join in.
The University of Bristol's Children of the 90s study has been researching the health and wellbeing of 14,000 mothers and their children for over 20 years.
Researchers are contacting the grandparents of the now grown-up children so they can have "health information across four generations".
Children of the 90s said it would make the study "a unique resource".
'Lifestyle and genetics'
Pregnant women from the Bristol area were recruited between April 1991 and December 1992 for the Avon Longitudinal Study of Parents and Children - also known as Children of the 90s.
Scientists have since been following the children's lives from before birth through to adulthood.
Those children are now young adults and some of them have had children of their own.
Dr Kate Northstone, who is running the grandparents study, said: "Having information on four generations of the same family will be incredibly important for scientists around the world.
"It will help them to examine the importance of lifestyle and genetics on health, and how this is passed on through the generations.
"We are also interested in non-biological grandparents as health and well-being are affected by many factors, not just genetic ones."
They are hoping to recruit at least 1,000 grandparents and estimate most of them would probably now be aged over 75.
Children of the 90s was recently awarded almost £8m from the Medical Research Council and the Wellcome Trust meaning their funding for the next five years is secured.