Demolition of Bristol City FC's Wedlock stand begins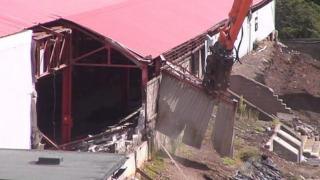 Demolition work has begun on a stand at Bristol City's Ashton Gate ground ahead of its £45m revamp.
Bristol Sport Ltd is overseeing the redevelopment of the ground which will see its capacity increase to 27,000.
The 5,800 seat Wedlock Stand, built in 1918, is named after Billy Wedlock, who played for the club from 1900-1901, and from 1905 until he retired in 1921.
His great-granddaughter, Hannah Wedlock, said it was "very sad" for the family and marked an "end of an era".
Both the Wedlock and Williams stands are being replaced with new facilities.
Due to be finished in time for the 2016-17 season, the revamped ground will be used by both Bristol City FC and Bristol Rugby Club.
Martin Griffiths, chairman of Bristol Sport, said: "It is great to finally see the demolition work begin.
"For months, indeed years, we have been preparing for this moment."
Ms Wedlock said it was sad that her great-grandfather's long association with the club was going to change.
"It's still unclear what the new name is going to be," she said.
"But whatever the name is, I hope the supporters are going to be happy with it."