Bristol Half Marathon race allows double amputee to enter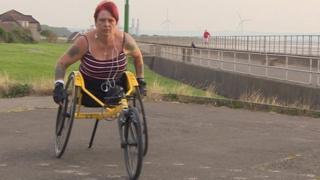 A double amputee who was told she could not enter the Bristol Half Marathon, because it would take her too long to walk it, is to race it in a wheelchair.
Jo Blinman, who lost both legs in a fire, was told by the city council she could not compete as it would not be able to offer her support.
Charity Paul's Place has now offered Ms Blinman a racing wheelchair so she can enter the 13.1-mile (21.2km) event.
She said: "Doing it in a chair will be faster and I've been training hard."
Ms Blinman, from Almondsbury, had originally applied to enter the half marathon as part of a team from Paul's Place.
'Annoyed' at ban
The charity had been hoping to raise enough money to buy new prosthetic legs for her.
But Bristol City Council, which organises the event, said the team could only take part as "guests".
"I was a bit annoyed but when we went to the council offices they agreed I could do it in my own chair," she said.
"Originally I was going to do it in my own wheelchair but the racing wheelchair is built for marathons.
"I've only had it for three months now but I've been on the track and got the bite for it - so I'm very excited."
The Bristol Half Marathon, which sees up to 20,000 runners and wheelchair athletes take on a 13.1-mile (21.1km) course through the city, is due to take place on Sunday.