Southmead Hospital staff parking cost 'appalling' says MP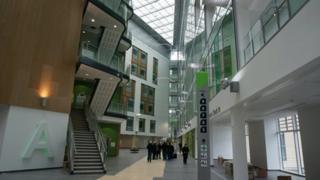 A £1.5m bill to ferry staff to a new hospital from two park-and-ride sites has left a Bristol MP "appalled".
The building opened in May but supply of parking for staff, patients and visitors is far outstripped by demand.
Charlotte Leslie MP said the £100,000 monthly taxpayer cost showed issues she warned of were "coming home to roost".
North Bristol NHS Trust said the service, used by workers including doctors and nurses, was a temporary measure that represented "best value".
A spokesman said the arrangement had been planned as part of the move of services from Frenchay Hospital, which closed in May.
Once some of the old buildings were demolished a total of 2,700 spaces would be available on the Southmead site, he explained.
'Subsidised permits'
But Ms Leslie, Conservative MP for Bristol North West, said "deep concerns" raised by local politicians, clinicians and herself about the lack of parking in the plans and other issues "such as a deficit of beds" were "largely ignored" by "a raft of expensive management consultants".
"Now, the problems they were warned about by people in touch with reality are coming home to roost," she said.
"I'm appalled that it's the taxpayer who is footing the bill."
Staff are being bussed in from Clifton Rugby Club and the former hospital site.
The service is due to cost the trust more than £1.7m over its 18-month life but some of the cash is being recouped through subsidised permits for staff.
But this leaves a shortfall of more than £1.5m.
Trust spokesman Simon Wood said it "absolutely had to do it" to make sure it had enough staff to fill the new hospital.
"There were many cases of people who'd worked at Frenchay who were going to really struggle with existing public services," he said.
"Staff and visitors pay for the infrastructure and management of the car parks... [but] we've given staff a discount from the normal rate for those using the park-and-ride because it is more inconvenient for them."
The service is used by about 600 of the hospital's 2,000 employees daily.