BT broadband scheme 'not reaching people' in Horton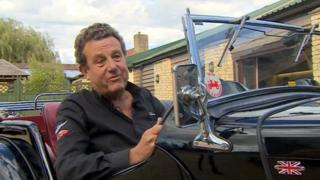 A £1.2bn scheme to bring high-speed internet connections to rural villages is failing to reach many homes and businesses, campaigners have said.
People in Horton, South Gloucestershire, called a public meeting on Thursday with their MP, council chief and a BT director.
Campaigner Richard Williams said he had to drive 20 miles (32km) to Bristol to upload photos to his company website.
BT said it had already connected 6,500 premises in South Gloucestershire.
"We will do another 16,000 by the middle of next year," said Paul Coles, director of BT Partnerships in the South West.
South Gloucestershire Council has paid BT £35.6m to connect villages where there are not enough people to make it commercially viable to install high-speed fibre.
This forms a chunk of the total £1.2bn BT has been paid by central government and local councils.
'We'll get nothing'
But Mr Williams, the vintage car dealer behind the campaign in Horton, said: "We sell all over the world; to China, Germany and New Zealand.
"Our customers expect to see high resolution pictures of the cars they are buying, but our internet cannot cope."
He said he was exploring alternative technology that he would have to pay for, but this was too expensive for many residents and small traders.
The BT scheme involves connecting a new high-speed fibre cabinet in each village, with individual properties connected to it by their old wires.
Those living within 200m (218 yards) are promised a very good service, while people up to 1km (0.6 miles) people will see reasonable speeds.
But Sid Crighton, a businessman who lives outside the centre of Horton, said: "We live 3.5km away, and we'll get nothing from BT's new cabinet. And there are lots of people in our position."
Mr Coles said: "Ultimately those people will be subject to other rollouts as the government gives us more money to take us to about 100%, so I think it's going to be a very rare scenario."