Swimming in Bristol Harbour campaign started by students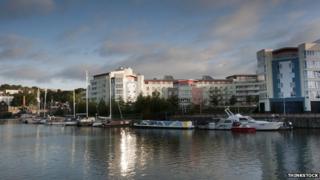 A campaign to allow swimming in Bristol's harbour has been started by a group of architecture students.
The six, from the University of the West of England, have come up with three alternative proposals.
Swimming in the harbour is currently prohibited.
Bristol mayor tweeted: "Great initiative @SwimBristol would be good to have a #Bristol harbour 'floating' pool a la #Copenhagen but needs to come with funding!"
George Ferguson was referring to the Copenhagen harbour baths, swimming facilities along the waterfront in Denmark's capital.
Bristol City Council has not yet commented, but it's website says: "The Floating Harbour is not designated as a bathing water because it is a multi-use area that includes navigation and flood defence."
It says swimming is prohibited through by-laws, unless special permission is obtained from the harbour master in advance.
Where can you currently swim outdoors around Bristol?
The lake at Trench Lane, Bradley Stoke
Henleaze Lake, Henleaze
Lido Bristol, Clifton
Portishead Open Air Pool
Clevedon Tidal Pool
But the Swim Bristol campaign proposes designated areas for swimming and boats, to avoid the danger of the two coming into contact.
Rose Morton, from Swim Bristol, said: "We've had very positive feedback from the vast majority of people.
"We've had a bit of contact from George Ferguson, the mayor, and he seems very positive about the project.
"For all the people that quite understandably doubt the quality of the water in the harbour, quite a large part of our campaign has been to spread the idea it's not as bad as you might think.
"There are issues with the water, we're not trying to say it's perfect by any means."
The group also has a more ambitious alternative plan of heating the water using hot springs under the city.
@gingerwizard64 tweeted: "@bbcrb @SwimBristol I have swam in the harbour, legally in the annual triathlon. The water is actually pretty good"
The Swimmer, organiser of a number of outdoor swimming challenges, tweeted: "@SwimBristol Great website and ideas. If we could swim in the harbour the route would be even better. But longer!"