Bristol free school for 'disengaged' teens gets go-ahead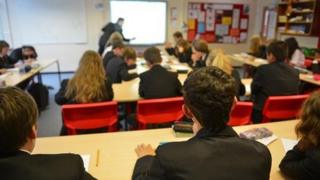 A free school for "disengaged" teenagers in Bristol has been given the go-ahead by the government.
Bristol Futures Academy (BFA), to be run by Weston College, will initially offer 25 places for pupils aged 14-16, rising to 100 places.
Dr Paul Phillips, of Weston College, said pupils would include those with undiagnosed special educational needs and children with behavioural problems.
A site has not yet been found but BFA is expected to open in September 2015.
Dr Phillips said BFA would take an "empowering approach to disengaged students with barriers to learning".
'Not mainstream'
He said student referrals would be part of an "evolving process" and would be agreed with the city council, other academies and schools and the individual pupil's parents or carers.
Dr Phillips said: "BFA is not a mainstream school and is an alternative provision. The curriculum is planned to meet individual need where each personalised programme will include relevant academic and vocational qualifications to ensure future success."
Lisa Middle, of the National Union of Teachers (NUT), said the union welcomed more provision for "disaffected" pupils, but said it had concerns about free schools.
Ms Middle said: "Free schools do not have to employ qualified teachers - the single most important factor in raising pupils' levels of achievement.
"Free schools are to set their own curriculum and are not obliged to deliver a broad and balanced education. Furthermore, they are not accountable to the local community."
Free schools are set up by groups of parents, teachers, charities, businesses, universities, trusts, religious or voluntary groups, but funded directly by central government.