Bristol Rovers in bid to extend delivery times of planned Sainsbury's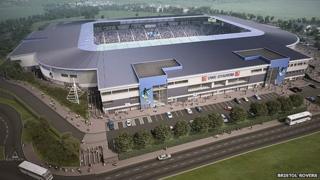 Extending delivery times for a planned supermarket at Bristol Rovers stadium would cause misery for people living nearby, protesters have said.
The football club made a deal with Sainsbury's for them to buy the ground to fund the club's planned move.
Delivery times have been restricted but now fresh efforts are being made by the club to extend them.
Bristol Rovers has declined to comment as to why it has made the new application on behalf of Sainsbury's.
Sainsbury's has also declined to comment.
No date has yet been set by Bristol City Council to consider the plans.
'Waking people up'
If approved, the deliveries would take place between 05:00 and midnight seven days a week.
Diana Scrafton from campaign group TRASHorfield, said: "Anybody affected is going to be thinking I don't want HGVs, articulated lorries going around their residential area at this time in the morning waking people up.
"It does actually leave people with only five hours of quiet during the night."
In the original planning consent, deliveries were limited to between 06:00 and 23:00 Mondays to Saturdays and between 09:00 and 20:00 on Sundays.
In May, Sainsbury's appealed these delivery times and this is currently with the city council. No decision has yet been made.
In the past the supermarket chain has also indicated it would pull out of the deal with Bristol Rovers if the extended delivery times were not secured.
The club needs to sell its current ground to help pay for the new 21,700-seat stadium in Frenchay.