Bristol school zebra crossing 'delayed due to parking zone'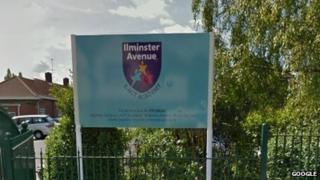 A zebra crossing at a Bristol school has been delayed by almost a year as council officers deal with a residents' parking zone, a councillor has claimed.
A campaign was launched a year ago after a girl was almost knocked down at Ilminster Avenue Academy in Knowle.
Hundreds signed a petition to the council and the school said the crossing was "desperately needed".
Lib Dem Gary Hopkins said the delay was down to the new zones. The council could not say when it would be built.
In a statement, the authority said it was "unable to clarify" when the crossing would "be introduced" but would not clarify any further about whether the delay was down to the RPZ.
'Desperately needed'
Parking zones are being rolled out to more than a dozen areas across Bristol including Cotham, Kingsdown and St Pauls. Mayor George Ferguson wants to use them to halt commuter parking.
Leon Macmeechan, a worker at the school, said: "People don't do 20mph along here, they go a lot quicker. A zebra crossing would be more enforceable - I think it is desperately needed here."
Mr Hopkins said the crossing had been delayed because council officers "were taken away to deal with residents' parking zones".
He added: "When you've got the money to deliver schemes - particularly the ones close to schools - it's vital the tiny amount of money and time required to do them are delivered quickly."
Bristol City Council said: "Residents will be made aware of any proposed improvements that are due to happen in these areas."