Shrien Dewani trial: 'Wife shot from front of taxi'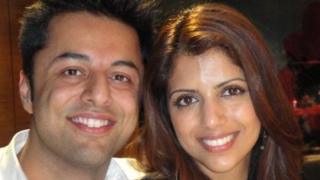 A ballistics expert has claimed Anni Dewani died on her honeymoon from a single bullet fired from the front seat of a taxi, a court has heard.
Pieter Engelbrecht was speaking at the trial of Shrien Dewani, 34, from Bristol, who denies arranging his wife's murder in South Africa in 2010.
Mr Engelbrecht told Western Cape High Court that Anni Dewani had one entrance wound and one exit wound on her neck.
There was also a bullet hole in the back seat rest of the vehicle.
Mr Engelbrecht, a warrant officer, spoke after the court was shown video footage of tests carried out to determine where the shot was fired from.
Bullet tract
He said he analysed four pieces of sponge from the seat of the taxi, which was shown to the court, and found a bullet tract which helped him decide the shot's trajectory.
Mr Engelbrecht said Mrs Dewani leaned to her right before the shot was fired, and this together with her wounds suggested it was fired from the front to the back of the car.
He was unable to place the exact position of the gunman but said most likely it would have been from the front left of the vehicle.
The warrant officer told the court he had come to his conclusions after taking the measurements of the taxi in which the hijacking took place.
Mr Engelbrecht also visited Goodwood Prison last weekend to measure the arm of Xolile Mngeni who was serving a life sentence for his role in the killing prior to his death in custody on 18 October.
The prosecution argues Mr Dewani was leading a secret double-life and wanted out of his marriage, so arranged a staged hijacking in which he escaped and his wife was killed.
The trial continues.