Bristol City's Ashton Gate 'will have no rail seats at opening'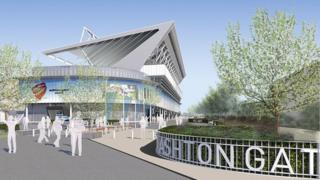 Bristol City's revamped Ashton Gate ground will not have a safe-standing area when it opens.
The club planned to become the first in the UK to install rail seats, but Bristol Sport said the retractable seating had still not been licensed.
All-seater stadiums have been compulsory in the Championship and Premier League since an inquiry into the 1989 Hillsborough disaster.
But, Football League clubs backed calls for safe-standing areas in February.
The Football League is still lobbying government for a change in the law, and Bristol Sport said the new stands would be built to enable rail seats to be fitted in future.
Campaigners say they provide a safer alternative to old-style terraces, which did little to stop the forward movement of fans.
Any pilot scheme will take place at a club not currently required by law to have an all-seater stadium.
Standing is currently allowed in Leagues One and Two, but Championship grounds must be all-seater after a club have played in the second tier for three seasons.
Bristol City had intended installing the new seating in two stands as part of the redevelopment of Ashton Gate.
What are rail seats?
Rail seats are used at some grounds in countries including Austria, Germany and Sweden
They are used by a number of teams in Germany's Bundesliga, including Bayer Leverkusen, Borussia Dortmund, Hamburg and Werder Bremen
The seats can be unlocked or locked, to create either a standing or seated area. In Germany, the seats are put up for league games, but lowered for European matches
Bristol Sport is the management team behind the stadium rebuilt.
Chairman Martin Griffiths, said: "It is frustrating, but does not mean we are giving up on safe-standing coming to the stadium.
"It does mean however, that we will be unable to install rail seating right from the first opening of the redeveloped stadium as we need to start placing orders for all the components of both the new South and Dolman stands very shortly.
"We have designed these areas to facilitate a retro-fit of rail seating if and when the law changes. So for now, we need to keep the stadium build programme on time."