'Cowboy' builder Mark Jenkins jailed for £1.5m fraud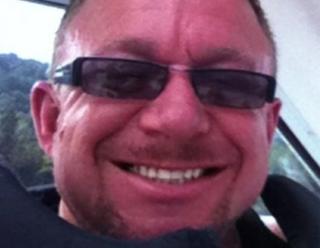 A "cowboy" builder has been jailed for five years for defrauding homeowners of up to £1.5m.
Mark Jenkins, also known as Mark Killick and Mark Richards, admitted taking large deposits upfront from customers without completing the work.
The prosecution argued he took £1.5m, but Jenkins told Bristol Crown Court the figure was about £573,000.
A total of 43 homeowners in Bristol, Clevedon, Weston-super-Mare, Merthyr Tydfil, and Cardiff were duped.
Bombsite kitchens
Judge Graham Hume Jones, when handing down the sentence said: "A number of statements were read out in court and the contents of those statements were extremely distressing.
"At least two people were in tears. [The victims] tell of saving for years to afford their dream kitchen or extension only to be left with what's been described in some cases as a bombsite.
"They tell of pressures put on family relationships and marriages."
One of Jenkins' victims was a woman from Fishponds, Bristol, who paid a £20,000 deposit for an extension.
She said: "Mark Jenkins left me with a shell on the side of my house and he has ruined my life."
Another customer, from Merthyr Tydfil, who gave a £17,000 deposit for an extension said the fraud had brought his marriage "to the brink of collapse".
"We are now living with a constant reminder of his deceit and our gullibility," the victim said.
'Willing buyers'
Jenkins got his bookings for work via the website ratedpeople.com.
A spokesman for the firm said: "At no time does ratedpeople.com ever claim to vouch for the (typically) self-employed tradesmen on its site - including in our advertising."
The company spokesman also said the website made it very clear it was important for people to make independent checks before hiring someone and to limit advance deposits.
The positive reviews about Jenkins' previous work were all genuine and verified by the homeowners who left them, the spokesman added.
Det Sgt Adam Smith, of Bristol CID, said it took nine months to build a case against Jenkins.
Mr Smith said: "Today's jail sentence reflects the seriousness of the crime.
"The victims had their dreams and expectations of seeing their homes improved dashed by the callous actions of a ruthless fraudster, who has been found out.
"This was a highly successful example of teamwork at its best by those involved against a rogue trader."
Previous bankruptcy
During the trial, prosecutors told the court: "There was a constant stream of fabrication and deceit and people thought they were dealing with a bona fide operation when in fact they were dealing with a one-man band - a complete cowboy."
Jenkins traded as Pro-Fit Builders, XL Builders and Trade Bookers and also changed his name to cover his tracks.
The builder had also failed to tell customers he had been made bankrupt in 2004.