Murderer Daniel Shankly and Daniel Wynne on the run from HMP Leyhill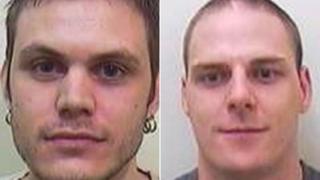 A murderer and another inmate from an open prison in South Gloucestershire have gone on the run, police have said.
Daniel Shankly, 30, and Daniel Wynne, 29, were last seen at HMP Leyhill at 12:50 BST on 25 October. They failed to appear for the 16:45 roll call.
Avon and Somerset Police believe the pair absconded together but may have since split up.
They advise members of the public not to approach the men but to call 999 immediately.
'RIP Nan' tattoo
Shankly is described as clean shaven, about 6ft 3ins (1.91m) and of a slim build with short brown spiky hair. He has a tattoo on his right upper arm with the words "RIP Nan".
He is serving a life sentence after being convicted of murder in 2001.
Wynne is 5ft 7ins (1.70m) and of stocky build. He has a shaved head, speaks with a Welsh accent and has a tattoo on his left arm with the name "Danny".
He was given a two-year sentence for assault with an indeterminate release date.
Shankly is known to have links with Weston-super-Mare, while Wynne has links to the Caerphilly area of South Wales.