Shrien Dewani 'knows everything about murder plot'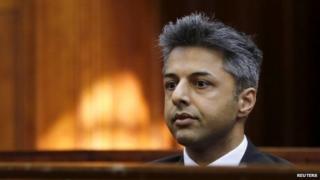 Shrien Dewani "knows everything" about the alleged conspiracy which led to the murder of his wife on their honeymoon in South Africa, a court has heard.
A hotel receptionist, granted immunity over his part in the murder of Anni Dewani, claims Mr Dewani is lying about having no involvement in her death.
Monde Mbolombo told the Western Cape High Court, the defendant knew everything "from beginning to end".
Mr Dewani, of Bristol, denies arranging for his wife to be killed in 2010.
He is on trial accused of setting up the plot for Mrs Dewani's murder in an apparent carjacking, with three men, shuttle taxi driver Zola Tongo, Mziwamadoda Qwabe and Xolile Mngeni.
He has pleaded not guilty to charges including kidnapping and murder.
'Important phone calls'
Mbolombo, 35, has always admitted involvement in the plot, but was told he would not be convicted of conspiracy to commit murder or illegal possession of ammunition after giving evidence in the case of gunman Mngeni, who was jailed two years ago.
He claims his role was to get Tongo and Qwabe to meet and to ensure the plot followed through.
Giving evidence he said: "It would be impossible for all three of us to say the same thing.
"All three of us, Tongo, Qwabe and myself, know who is behind this and it is Mr Shrien Dewani, who is sitting there."
Mbolombo, was also questioned by Judge Jeanette Traverso about two "very important" phone calls he had testified took place.
He said he overheard Tongo speaking on the phone, allegedly to Mr Dewani on November 13, 2010, the same day Anni was killed.
Tongo apparently told him this was the man who wanted his wife killed and that the man did not trust him.
The second call was apparently from Tongo to Mbolombo that evening.
Traverso told Mbolombo, who may still face prosecution, that neither call could be found on phone records agreed upon by the State and defence.
Gunman's prison death
Mbolombo agreed there was no record of the calls, but reiterated they did happen.
Mr Dewani's defence team claim the couple were hijacked as Tongo was driving them through the Cape Town suburb of Gugulethu in his minibus.
The businessman was released unharmed but Mrs Dewani was driven away before being shot dead.
Her body was found in the abandoned minibus in Khayelitsha the next morning. Her killer, Mngeni, died in prison of a brain tumour.
The trial continues.