Bristol City Council accused of racism by black development worker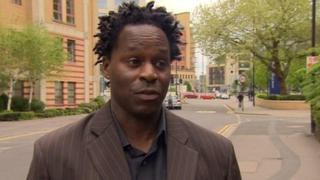 A black development worker who won race discrimination damages from a Bristol school has accused the city council of being "institutionally racist".
David McLeod, 38, was working at the City Academy, but was overlooked for promotion in 2012.
Mr McLeod made the claim to Bristol 24/7 after hearing the academy's former principal Gill Kelly had been hired by the council.
The authority said it had employed Ms Kelly for her "extensive experience".
It said Ms Kelly is providing consultancy two days a week until July on a project which was open to all Bristol secondary head teachers.
"Ms Kelly was engaged following interview on the strength of her extensive experience in curriculum leadership," a council spokeswoman said.
'Slap in the face'
While she was principal at the academy Mr McLeod was working on a project designed to help black and other ethnic minority students improve their academic achievements.
An investigation into practices at the school found he and other black staff on the project were passed over for promotion, while three white managers were appointed.
An employment tribunal ruled Mr McLeod had received less favourable treatment because of his race and he was awarded £14,000 in damages in May.
Afterwards, Ms Kelly and the academy's chair of governors, John Lacock, apologised to Mr McLeod and the other black staff and said lessons had been learned.
She later announced she would stand down from the role but stated her decision was not connected to the outcome of the tribunal.
Mr McLeod said news of her appointment with the council "leaves a bad taste in my mouth".
"Under her rule, 11 black and minority ethnic (BME) people said 'your organisation is institutionally racist,'" said Mr McLeod.
"I won my case so this a slap in the face for all of us."
He said he had expected Bristol City Council to acknowledge there was a problem which needed to be addressed and do something about it.
Instead he said the impression the appointment gives to BME people in Bristol is: "We look after our own - get back in your place."