Anni Dewani's family mark anniversary of her death in Cape Town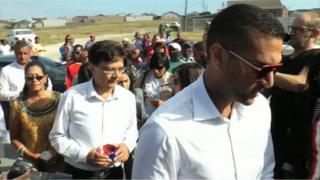 The family of Anni Dewani, who was killed while on honeymoon in South Africa, have gathered in Cape Town to mark the fourth anniversary of her death.
They laid flowers and lit candles during a ceremony held at the location in Gugulethu where she was killed.
Anni, 28, and husband Shrien were travelling in a taxi when it was apparently carjacked.
Mr Dewani is currently on trial for organising her murder, which he denies.
Speaking at the ceremony, Anni's brother Ashock Hindocha said he "wanted to thank all the South African people" for all their support.
Mr Dewani, 34, of Bristol, is on trial accused of setting up the plot for Mrs Dewani's murder with three men, shuttle taxi driver Zola Tongo, Mziwamadoda Qwabe and Xolile Mngeni in November 2010.
He has pleaded not guilty to charges including kidnapping and murder.
The trial continues.