Avon and Somerset Police investigating child exploitation cases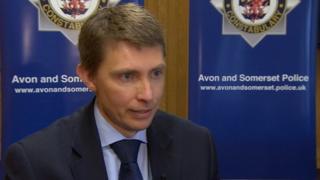 A police force has launched nine separate investigations into child sexual exploitation, which could involve almost 50 victims.
Avon and Somerset police said detectives had identified 49 suspects.
It comes after two gangs of men were found guilty of the rape and abuse of teenage girls in Bristol.
Ch Supt Julian Moss said the new inquiries involved "all sections of community" and police were continuing to speak to witnesses and suspects.
"Across Avon and Somerset we've got nine investigations on the go at the moment into child sexual exploitation involving a number of suspects and a number of victims," he said.
"We can expect further development in the future.
"What we haven't seen so far in this case is a legacy of historic offences. They've all been quite recent - we're talking about the tail-end of 2012 and the beginning of 2013."
During two court cases, 13 men were convicted of sex abuse crimes.
Six of those were jailed during the summer, but the case could not be reported until Thursday. The remaining seven were convicted earlier this week and will be sentenced later.
Barnardo's said the convictions were "only the tip of the iceberg".
Bristol Crown Court heard one victim, aged 16, was assaulted by five Somali men after she was moved to the city while in the care of another authority.
Her 14-year-old sister was raped by a member of the gang while visiting her.
The inquiry led to police uncovering another gang of men, also of Somali origin, who had been abusing four other girls.
The 13 men, all from Bristol, were convicted of charges including rape, sexual activity with a child, facilitating child prostitution, trafficking and paying for the sexual services of a child.