Funeral held for MH17 air crash victim Ben Pocock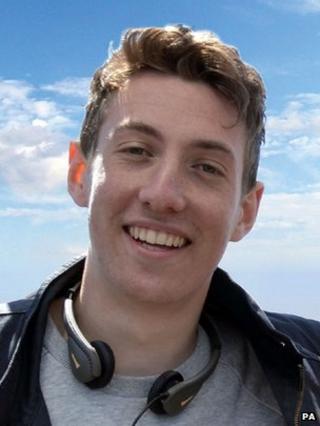 The funeral has taken place for a UK student who was killed in the Malaysian Airlines MH17 air crash in Ukraine.
Ben Pocock, 20, from Bristol, was flying to Australia when the plane came down in eastern Ukraine, killing all 298 people on board.
The exact cause of the crash is still being investigated, although a missile attack is suspected.
Some 500 people attended the funeral at St John's Church in Keynsham, which was followed by a private cremation.
His coffin was carried by his friends and family, accompanied by white floral tributes.
Tributes were paid by some of those who attended the funeral, saying he was a "very sociable, likeable and talented young man" who was "bright and talented at sport".
Mr Pocock's parents, Jeremy and Louise, said in an earlier tribute: "The last four months has been a desperate and sad time for us as a family, but we are relieved to have been able to bring Ben home and accord him all the love and respect he deserves."
Their son was studying International Business at Loughborough University and was en route to spend six months studying at the University of Western Australia (UWA) in Perth.