Bristol Downs classical stone bridge ecology survey completed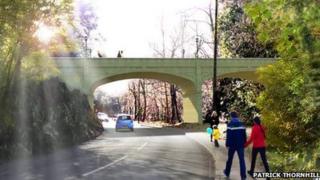 Environmental surveys which need to be done before a classical stone footbridge can be built across the Downs in Bristol have been completed.
Engineer Dr Adrienn Tomor, from the University of the West of England (UWE), said the results meant they could apply for planning early in 2015.
She said sensitive species had been identified at the site, which is a Special Area of Conservation (SAC).
Funding will be sought once a planning application is submitted, she added.
Ecologists from the Avon Wildlife Trust (AWT) and engineers from UWE gathered the information for the survey in the Bridge Valley Road area.
'Very rarest trees'
Sarah Dale, from AWT, said: "We have also put together a proposal not only to restore, but also enhance the habitat in the area in the long term."
A tree survey was carried out as the SAC is a site of international importance for whitebeam trees.
Libby Houston, from Hillside Trees, which did the tree survey, said: "Though some of the very rarest trees grow further down Bridge Valley Road, there are no whitebeams in the proposed location."
Dr Tomor said: "If we are able to progress with the bridge, we are keen to make sure that it will be on a non-profit making basis.
"We are hoping to maximise involvement of the local community, provide new career opportunities for young - and not so young - people, re-learn historical skills, involve art and crafts.
"We want to revitalise masonry arch bridges after 120 years as viable alternatives to steel and concrete bridges. It is a wonderful project with great potential."
The structure across Bridge Valley Road would complete a circular route on the Downs, linking Clifton Suspension Bridge, the Zoo, the Downs and the Avon Gorge.
The council's Downs Committee has agreed in principle to the idea, which will require planning permission.