Crowdfunding bid for surfing lake near Bristol surpasses target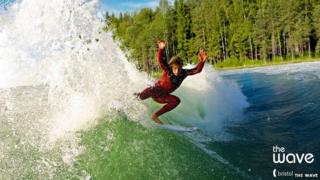 A crowdfunding campaign has surpassed its target of £150,000 for a man-made surfing lake near Bristol.
The Wave: Bristol will cost up to £6m and will be built on greenbelt land outside Easter Compton in Almondsbury.
Using new technology to create a 1.6m (5 ft) wave every 30 seconds, the lake will boast the "world's longest waves".
Nick Hounsfield, project co-founder, thanked people for their donations and said the team would "make a real legacy we can be proud of".
The amount raised via the Crowdfunder website currently stands at nearly £159,000, with six days left of the campaign still to run.
"We are going to keep pushing this week as the more we raise, the greater the impact," said Mr Hounsfield.
Plans for the attraction were passed by South Gloucestershire Council in June.
As well as the "centrepiece" surfing lake, there will be a natural swimming lake, campsite, surf shop and gardens.