Cyclist crash 'joke' tweeter sacked from stockbrokers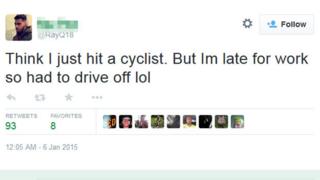 A man who tweeted that he had knocked over a cyclist but could not stop because he was "late for work" has been sacked from his job at a stockbrokers.
Cardiff University graduate Rayhan Qadar later told the BBC the message was a "dumb mistake" and he "did not hit anyone".
But his employer Hargreaves Lansdown said the tweet was "unacceptable" and confirmed his dismissal.
Avon and Somerset Police earlier appealed for any victim to call them.
'Bad joke'
A spokesman for the Bristol-based stockbrokers said one of its employees "failed to conduct themselves to the standards we expect of our staff".
"Upon becoming aware of this issue we have terminated this person's employment with immediate effect," he added.
Twitter users slated his apparent boast, but only after re-tweeting it and sharing it hundreds of times.
Astronomer Adam Whittaker wrote: "You know what's dumber than leaving the scene? Tweeting it for the world to see. I'll be following your case".
Mr Qadar later sent two more tweets to his 1,323 followers which said his earlier message about the cyclist was "obviously not true".
"I did not hit cyclist. Not today. Not ever. A bad joke on my part it seems.
"Anyone who follows me on Twitter know 99% of the things I tweet is nonsense."
Avon and Somerset Police earlier confirmed it was investigating the claims and appealed for any potential victim to come forward.