Lacey-Marie Poton inquest: Narrative verdict recorded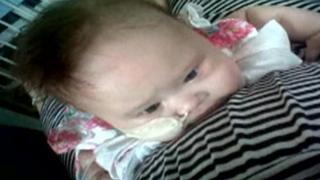 The parents of a four-month-old baby who died when her condition was not treated as an emergency by paramedics say they have "unanswered questions".
Lacey-Marie Poton died at Bristol Royal Hospital for Children after suffering a cardiac arrest at her home in 2013.
Avon Coroner Maria Voisin recorded a narrative verdict at the inquest and said the cause "will remain a mystery".
Parents Emma Norley and Jhonny Poton said they believed their daughter would be alive if treatment had been faster.
Lacey-Marie, who was born with a hole in her heart, became unwell shortly after having a stent fitted to improve oxygen flow to her lungs at the hospital.
She was discharged and her parents were told she had gastroenteritis.
Condition deteriorated rapidly
But 10 minutes after returning home, Lacey-Marie went into cardiac arrest and Miss Norley had to perform CPR on her while an ambulance was called, Avon Coroner's Court was told.
Miss Norley said the ambulance crew who attended their home failed to treat her condition as an emergency.
Lacey-Marie's condition deteriorated rapidly after she reached the hospital and she died four hours later.
A post-mortem examination concluded her death was due to congenital heart disease associated with Down's Syndrome.
The coroner recorded a narrative conclusion and said: "The cause of her acute deterioration which led to her death is not known."
Miss Norley and Mr Poton said in a statement: "We still have many questions about Lacey-Marie's care at Bristol and the part played in her death by the failures we have heard about.
"We are convinced that she would still be with us had she been treated swiftly and competently. We can only hope that no child has to suffer in the way she did."
South Western Ambulance Service NHS Foundation Trust apologised to Lacey-Marie's parents and said it was "very sorry" that some elements of care "did not meet the high standards expected".
A spokesperson for University Hospitals Bristol NHS Foundation Trust said: "The coroner's independent conclusion is that the cause of Lacey-Marie's subsequent sudden deterioration is unknown, but she made no criticisms of the care Lacey-Marie received at the Bristol Children's Hospital.
"We would like to reiterate our deepest condolences to her family."