Bristol speed cameras stay off 'until April'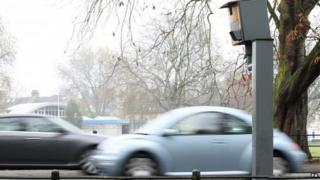 Speed cameras in Bristol will not be switched back on until at least April, the BBC has learned.
The cameras have been off since 2011 but mayor George Ferguson said he wanted them reactivated more than a year ago in a bid to boost road safety.
Work to start using them again did not begin until last summer, Bristol City Council said.
The plan to turn them back on again will be discussed by the city's cabinet in April.
A council spokeswoman said: "Reactivating speed cameras is obviously a sensitive issue and therefore all necessary procedures and permissions need to be in place.
"This includes a public forum to scrutinise the final decision of the Cabinet on the initial sites chosen for the switch on."
'Site review'
The authority added that before each camera could be turned back on it would need to be removed, examined and tested.
Each site would also need reviewing to ensure sensors linked to the cameras were still working.
In other areas around Bristol, Avon and Somerset Police has bought most of the cameras from local councils and will reactivate them.
But Bristol City Council still owns its cameras and is funding the switch on from reserves.
Philip Goose, from road safety charity Brake, said he would "strongly welcome" Bristol's cameras being turned back on "at the earliest possible opportunity".
"The benefits in terms of preventing speed-related crashes, and all the resulting human suffering and costs to the public purse, far outweigh any costs involved in their operation.
"The only people caught and fined by speed cameras are those who break the law, and we urge all drivers to stay within speed limits to help save lives."