Driving test candidates offered compensation after centre move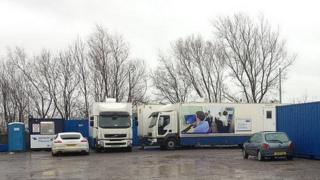 People have been offered compensation and free re-tests after a driving theory test centre in Bristol was moved at short notice.
The centre in King Street moved to a temporary location in Avonmouth, eight miles away, last month.
Some learner drivers have complained about a lack of communication and said a shuttle bus failed to turn up.
The Driver and Vehicle Standards Agency (DVSA) apologised and said the move was due to "unavoidable circumstances".
A notice was put up at the old centre on 23 December, informing people of the move.
The spokesman said: "Due to unavoidable circumstances we had to vacate our theory test premises in Bristol at short notice.
'Relocation'
"To maintain a service for customers we arranged for mobile test vehicles to be located at Avonmouth.
"We are now looking for a more central temporary site in Bristol pending a permanent relocation.
"We apologise for any inconvenience and have offered candidates free re-tests and compensation to cover out-of-pocket expenses."
They said customers who had booked tests had been notified of the change of location by email or telephone, but "due to an error" not everybody was told the shuttle bus service had been suspended between Christmas and the new year.
The bus is no longer running.
Several learner drivers told BBC Radio Bristol they had not been told about the change in advance.
One said her test had been cancelled at the last minute because one of the mobile test vehicles was not working.