Sir Jack Hayward's ss Great Britain rescue remembered in tribute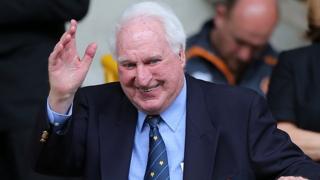 Tributes have been made to philanthropist, Sir Jack Hayward, who has died at the age of 91, for his role in rescuing the ss Great Britain.
The former owner of football club Wolves paid for the ship to be towed to Bristol from the Falklands in 1970 and fund its restoration.
Matthew Tanner, from the ss Great Britain Trust, said it was his "vision and his money that made it happen".
Sir Jack got involved soon after buying Lundy Island for the National Trust.
'Ordinary visitor'
"He had a nickname even back then, which was Union Jack Hayward, he was a great patriot.
"He had just got involved in saving Lundy Island and buying it for the trust that now runs it, so it was made available and kept as a nature reserve.
"Because of that he came to the attention of the people who were trying to find the money to rescue this great magnificent Brunel ship that looked so rusty," added Mr Tanner.
After the rescue, Sir Jack remained a benefactor until it had been restored.
The ship, which was built by the engineer Isambard Kingdom Brunel and launched in 1843, is now run as tourist attraction in Bristol where it was built.
Last month, the Arts Council awarded the ship a mark of distinction for its national and international importance.
"He would come in as an ordinary visitor, buy a ticket and see how long it would take for us to spot him arriving, which he thought was very funny, to see us all dashing about," said Mr Tanner.
"He was a great man, but a very generous and warm-hearted man."