Neanderthal actors wanted in Bristol for speed dating night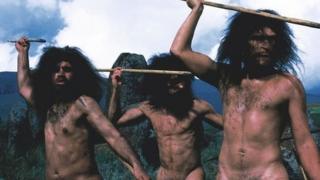 A "Neanderthal speed dating" event at a Bristol science centre is looking for two actors to play "early hominids".
At-Bristol said the adult-only Valentine's evening would give visitors a chance to think about whether they would date "homo neanderthalensis".
It said the male and female roles involved improvisation with "suitable wigs and fur" provided.
John Polatch, from At-Bristol, said it would give the chosen actors a chance to "bring out their inner Neanderthal".
He said visitors would be invited to have a blind date with a Neanderthal in a speed dating booth at the event on 13 February.
'Crouched behind a rock'
Mr Polatch said a similar activity was run last year but found "30,000 years of regression was too much for some people to handle", so this year they were "turning to the professionals".
He said there was some evidence that humans had lived alongside Neanderthals in Europe and had interbred.
"The aim of the activity is to get visitors to think about not only the history of human civilisation, but also the unique opportunity to reflect on a scientific point from a personal point of view.
"Evidence for the physicality of the traits and behaviours of Neanderthal are debated, so we're encouraging visitors to take a bit of flight of fancy into how they may have behaved if it was they that spotted a Neanderthal crouched behind a rock in their territory," he said.
The event is taking place between 18:30-22:00 GMT at the At-Bristol science centre.