Avonmouth station demolition plan fought by campaigners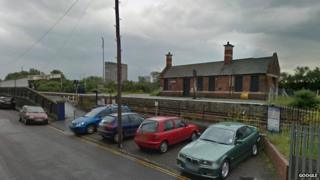 Efforts are being made to stop the demolition of a Victorian railway station building in Bristol.
Avonmouth station is still in use but campaigners say if local transport schemes succeed its use could grow.
Building owner Network Rail has said it has no commercial value. The demolition has been approved by Bristol City Council to take place in spring.
Avonmouth councillor Matthew Melias said: "It's a pointless demolition of an iconic building."
More stations
The campaign to save it is backed by Bristol Civic Society, Friends of Suburban Bristol Railways and Bristol North West MP Charlotte Leslie.
Plans to expand the local railway network, known as the Metrowest scheme, are under way. The plans involve opening more local stations and increasing the frequency of passenger trains.
Avonmouth station is part of the hoped-for Henbury Loop which runs from South Gloucestershire to Avonmouth. If it does go ahead, Avonmouth would be part of the loop, and potentially attract more commuters.
Currently Avonmouth serves passengers travelling to Bristol Temple Meads.
'Worth saving'
Carol Durrant, from Friends of Suburban Bristol Railways, said: "There is going to be a massive increase in passenger numbers with Metrowest Phase One, and potentially Metrowest Phase Two.
"It is an aspirational thing; we would like to see this building brought back into use. We're not saying building across the rail network should be rescued, but this one is really worth saving. It could be useful for some railway, community or commercial purpose combined."
The building was recently used as a hairdressing salon.
A Network Rail spokesman said: "We understand the concerns of Friends of Bristol Suburban Railways. However, Avonmouth station building is in a serious state of disrepair and while we have a responsibility to preserve the heritage of the railway, this must be done in a way that makes the best use of taxpayers' money."
The firm added that it had consulted on the plans with the Railway Heritage Trust and the Victorian Society, and both had agreed that the building was beyond repair.
Campaigners say it could be converted into a heritage railway museum, teashop or office space.