Southmead Hospital: Residents facing parking charges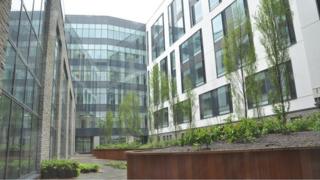 People living near a Bristol hospital may have to pay to park outside their homes if a residents' parking scheme is brought in to ease congestion.
Jenny Smith, Labour councillor for Southmead, said parking has been a "nightmare" since the new site opened.
"Disabled people and people with prams can't get along because of cars parked across the pavement," she said.
Bristol City Council said it is working with North Bristol NHS Trust to "ease" parking problems" in the area.
There are currently 1,200 spaces on the site of the new Southmead Hospital.
A further 1,500 are due to be created by spring 2016.
In a statement the council said: "A parking survey is due to be carried out this month to assess the scale and scope of hospital related parking in streets within a 750 metres (2,460 feet) radius of the hospital."
The council previously said no scheme would be brought in but pressure from residents has led to a U-turn.
Much of the hospital was recently rebuilt at cost of £430m. The keys were handed over to North Bristol NHS Trust in March 2014.
The subject of parking shortages at the site was initially raised two months later.
Some staff are currently being bussed in from Clifton Rugby Club and the former hospital site at Frenchay.
The service is due to cost the trust more than £1.7m over its 18-month life but some of the cash is being recouped through subsidised permits for staff.
However, this leaves a shortfall of more than £1.5m.