Defibrillator stolen from Bath in spate of thefts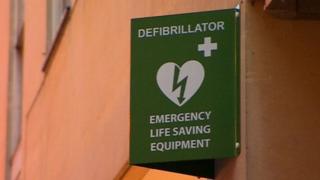 A defibrillator stolen from outside a pub in the centre of Bath is the latest in a spate of similar thefts from around the greater Bristol area.
The unit, taken from near the Volunteer Riflemans Arms pub in New Bond Street at the weekend, is the eighth to be stolen since December.
It was installed in memory of a taxi driver who had a heart attack in 2014.
Police are investigating thefts from sites including Easton, Pucklechurch, Frenchay and Fishponds.
"When we inspected the box we found it was empty and had been relocked so somebody had stolen the contents and put it back on the wall," said Bob Courtney who helped raise the money to buy the kit in Bath.
The defibrillator delivers an electric shock to help restart a heart which has stopped, or is not beating properly.
'Lives will be lost'
Ray Care, chairman of the Bristol Area Cardiac Support Group, said: "South West Ambulance say they have to be accessible 24/7."
Clive Setter, who campaigned to get the defibrillators in the area, said 12 had been used 36 times in the last eight months, according to ambulance figures.
"We know that without them lives will be lost," said Mr Setter.
"It's hard to think why someone would take something which could be so important to someone having a cardiac arrest."
Keith Porter, from Yate, who survived a massive heart attack in 2013, said the machine installed near his home and used on him helped save his life.
"I wouldn't be here today without it," he said.
"They're playing with people's lives, it's life saving treatment on the spot."
Community groups who raised money to fund the equipment said they were now considering installing CCTV cameras.