Hinton village considers 'no sex' warning signs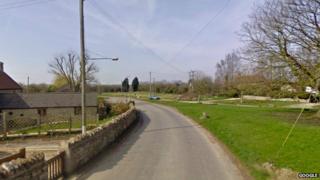 Warning signs could be put up in a bid to deter people from having open-air sex in a "notorious" hotspot.
It follows reports of men having sex near to the Cotswold Way at the village of Hinton, near Bristol.
Dyrham and Hinton Parish Council chair Kerry Sawyer said the practice had been going on for years, "on a daily basis".
She said South Gloucestershire Council would be asked for advice about appropriate signage in a bid to warn passers by and discourage the activity.
She said anyone witnessing "inappropriate behaviour" should report it to the police.
On 'full view'
Angela Gent, who runs a hotel business in the area, said she had spotted three incidents recently.
She said two of them led to her calling the police because sexual activity had been taking part in full view, next to the road.
"At this point they were just coming out of the bushes and putting themselves away so to speak... What became intimidating was one man started to follow me.
"It's been notorious for years...people either find it funny or choose to ignore it or they don't feel they'll get listened to or anything will get done."