'Poo bus' goes into service in Bristol for the weekend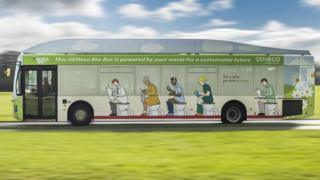 The UK's first bus powered entirely by human and food waste has gone into service in Bristol for the weekend.
The 40-seat "Bio-Bus", which runs on biomethane gas generated from sewage and food waste, was tested last year.
The gas generated from the annual waste of about five people can power the bus for up to 300km (186 miles).
Operator First West of England will run a free round-trip service between the city and Smeaton Road, through the day and on Sunday.
The biomethane gas is generated at Bristol sewage treatment works in Avonmouth, which is run by GENeco, a subsidiary of Wessex Water.
A total of 17m cubic metres of biomethane, enough to power 8,300 homes, is generated annually at the plant through a process known as anaerobic digestion.
James Freeman, of First West of England, said: "We have been talking with GENeco for some weeks about the possibility of bringing the bio-methane bus to Bristol, to run it as part of our city-wide network during the Green Capital Year.
"So, it's great to be able to get this partnership with GENeco off to a great start during the opening weekend."
Following its trial on Saturday, the company said it hopes to bring it into service in the city as a demonstration model in the coming weeks.