No date to fix corroded crash-fear M32 barrier in Bristol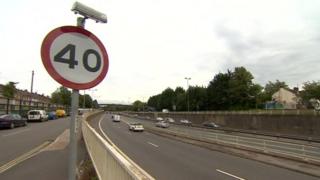 Drivers ignoring a temporary 40mph limit on the M32 into Bristol are putting themselves at "real risk" of injury, the Highways Agency said.
The limit was introduced five months ago when the agency said the barrier was "significantly corroded" and would not withstand a high speed crash.
It will be months more before a temporary barrier could be built to replace it.
Former Top Gear driver Ben Collins said the situation "makes no sense".
Permanent solution
Mr Collins, who played The Stig on the BBC show, said: "It's daft - it's a motorway designed and built for higher speed travel than a normal road and needs an appropriate barrier putting in."
Highways Agency spokesman Dave Sledge said: "There is a real risk that if people hit that barrier at high speed at the moment they could go through it."
Mr Sledge said the agency would now carry out a speed survey to find out if a temporary barrier would work to replace the corroded one.
He said that could happen within the "next few months".
"If then we have to do a more permanent solution we are looking at a longer time period."