Prisoners sent to open jails like Leyhill 'too early'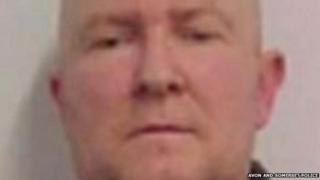 The Prison Officers' Association (POA) has claimed prisoners are being transferred to low security jails too early because of overcrowding.
The claim was made as police continue their search for a convicted murderer missing from Leyhill Open Prison.
Mark Stoner-Seed, 52, was released on a temporary licence in the Bristol area on Friday but failed to return.
The Prison Reform Trust said the number of absconders had dropped dramatically.
In the year 2003-04, 144 prisoners absconded from Leyhill, in South Gloucestershire. The figures for 2013-14 show the number had dropped to 18.
'92% recaptured'
But Glyn Travis of the POA said although there are fewer absconders, they are more dangerous.
"Far too many prisoners who are dangerous are being sent to open conditions because of the pressure on prison population and the fact they are being wrongly categorised," he said.
"So, you're getting very dangerous criminals in open conditions going out into the community, all too often, too early in their sentence."
A recent inspection at Leyhill raised concerns about a substantial increase in prisoners there who had been given life sentences and other prisoners being moved to open conditions earlier in their sentences.
But Juliet Lyon, director of the Prison Reform Trust, said: "When you look at what happens when people abscond, within six months 92% of them are recaptured.
"When you look at the numbers who are released on temporary licence, about 58,000 a year across England and Wales, about 300 result in a failure to return and, of those, just a tiny handful, fewer than 20, are arrested on suspicion of a further offence."
Mark Stoner-Seed, originally from Nottingham, was given a life sentence for murder, grievous bodily harm with intent and arson with intent.
Avon and Somerset Police have urged the public not to approach him but to report any sightings to them.