Bristol school apology after UKIP appears in far-right list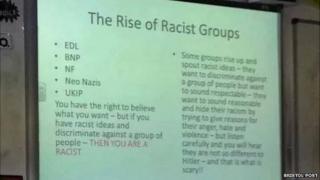 A school in Bristol has apologised for including UKIP in a list of far-right groups that was shown to pupils during a lesson.
The Bristol Post published a photo of the list, which appeared on a lecture slide at the Bridge Learning Campus in Hartcliffe.
Bristol UKIP councillor Michael Frost described it as "totally outrageous".
The school apologised, saying it was a mistake and reference to the party has now been removed from the slide.
UKIP was featured in a list headed The Rise of Racist Groups, alongside the English Defence League, British National Party, National Front and Neo Nazis.
'Nonsense'
Mr Frost said: "UKIP stands for United Kingdom Independence Party. It's got nothing to do with racism. It's totally outrageous.
"I'm very, very upset and disappointed that this sort of nonsense is being taught to our young people."
Bridge Learning Campus chief executive Mark Davies said the slide was used in a class discussion about community relationships and tolerance, and it was designed to "stimulate debate among our pupils".
"It was a mistake for UKIP to have been listed along with the other groups, and I have apologised to the party for its inclusion," he said.
"The reference has been removed from the slide and the teacher concerned has apologised, and we have taken steps to ensure it will not reappear in future."