Anni Dewani inquest could resume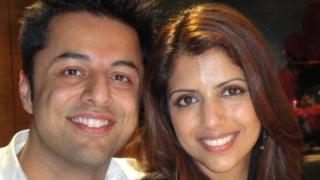 A coroner is looking to resume the inquest into the death of Anni Dewani, who was killed while on honeymoon in South Africa in 2010.
Mrs Dewani's husband, Shrien, was cleared of her murder after a Cape Town judge threw out the case against him.
A spokeswoman for North London Coroner Andrew Walker said a date was yet to be set for the inquest to resume.
"The coroner is looking to arrange a meeting with interested parties," she said.
The inquest was first opened in north London, where Mrs Dewani was cremated, on 18 November 2010.
Mr Dewani, 34, from Bristol, had been accused of organising his new bride's murder, but never gave evidence in court.
Throwing out Mr Dewani's case, Judge Jeanette Traverso ruled it was not necessary for Mr Dewani to give evidence, saying a defendant was entitled to be discharged if there was no possibility of conviction unless he entered the witness box and incriminated himself.
But Mrs Dewani's family, who had wanted the trial to continue, have said they were denied the chance to hear Mr Dewani speak about what happened.
Three other men were jailed for their role in the killing of Swedish national Mrs Dewani.
Taxi driver Zola Tongo is serving an 18-year jail term and Mziwamadoda Qwabe is part-way through a 25-year jail sentence for his role.
Xolile Mngeni was serving life for firing the shot that killed Mrs Dewani, but died in prison from a brain tumour.
Judge Traverso said the evidence of Tongo and Qwabe was "so improbable, with so many mistakes, lies and inconsistencies you cannot see where the lies ended and the truth begins".
A complaint has been lodged against the judge by the Higher Education Transformation Network (HETN), a group of academics and lawyers who have accused Judge Jeanette Traverso's of "gross judicial bias and misconduct".
She will find out later this month if she will face censure.
Mr and Mrs Dewani were held at gunpoint while being driven in a taxi through Gugulethu township near Cape Town.
Mr Dewani was released unharmed, but Mrs Dewani's body was found on the back seat of their taxi the following day.