Avonmouth pollution tests reveal 'no significant problem'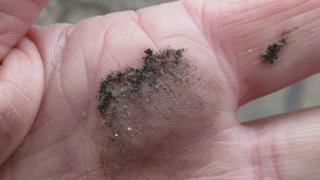 Campaigners have vowed to continue fighting for better air quality in Avonmouth despite being told there is no major problem.
Tests were carried out by Bristol City Council and the Environment Agency following concerns from residents.
They claim dust and other particulates are being blown in from the nearby docks and industrial units in the area.
The agency said the levels of particulates were "well below" levels set for dust health standards.
'More analysis'
Two test sites ran for three months from August and showed air quality breached government limits once during the period.
Campaigners said the testing should be continuous and the results made public.
Ian Robinson from the Avonmouth Dust Forum has called for more analysis.
"We need a far longer term study and in depth analysis not only the PM10 [particulate size] but the two-point-five and below matter that is blowing all over Avonmouth constantly.
"The lists of contaminates is truly frightening that we've had independently tested.
"There's cadmium, other heavy metals, brick dust, recycled wood dust, grain dust and pesticides."
Traffic contributing
Bristol City Council said it would continue air tests until September.
Green councillor Daniella Radice said they were working with local businesses "to ensure they have the correct policies and processes in place to keep dust to a minimum".
"[We are] monitoring levels of particulates.. and working to ensure complaints are properly investigated."
Ian Withers, from the Environment Agency confirmed some of the dust was coming from the port.
"We will be working with local companies to understand and mitigate [this]."
The survey also found that traffic on the nearby M5 and A4 was contributing to the particulate levels, he added.