Bristol yoga group barred from church hall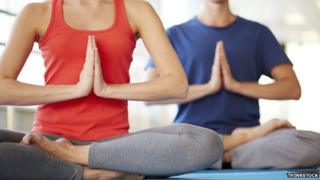 A yoga group has been banned from using a church hall in Bristol after being told its activities are "not compatible" with the Christian faith.
Instructor Naomi Hayama has been using St Michael and All Angels for nine years but has now been told to leave.
She said the decision had been made despite church leaders never having observed one of her classes.
The Bristol diocese said decisions on who can hire church buildings rest with the relevant parochial church council.
'Alternative spiritualities'
A statement said: "The Diocese of Bristol therefore supports the PCC of Bishopston and St Andrews in exercising its responsibility in deciding to cease bookings for a yoga class in St Michael's Church."
Ms Hayama, 39, from Horfield, has until the end of the month to find alternative premises for her 30 students.
In a letter sent to her, the PCC described yoga as "alternative spiritualities".
"We are aware that yoga can be practised as either an exercise class or as a spiritual discipline, and anywhere in between, however we understand that its roots lie in thinking that it is not compatible with the Christian faith and the Christian faith has not appropriated yoga," the letter stated.
"The parish church council recently passed a resolution stating that we would no longer take either new or continuing bookings for groups practising 'alternative spiritualities'."