Bath fatal tipper truck crash investigated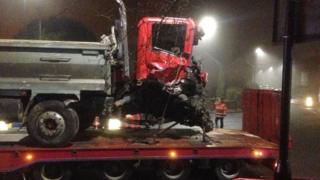 Investigations are continuing into a tipper truck crash in Bath that left a child and three adults dead.
The truck also hit "a number of vehicles" and struck two pedestrians as it descended a steep hill on Lansdown Lane in Upper Weston, police said.
Three people in a car and a young girl who was on foot died in the crash, the scene of which was sealed off.
Police said early witness accounts "suggest the driver was trying to avert an accident".
Four others were seriously injured in the crash, with one left in a critical condition. The lorry driver was also taken to hospital.
The wreckage of the truck and a badly damaged car were removed from the scene early on Tuesday.
---
At the scene: Rhiannon Beacham, BBC News
Lansdown Lane is a scene of devastation this morning.
The road is covered with sand and rubble. Garden walls have been destroyed. A school street sign lies broken amongst traffic cones, car parts and a fire extinguisher. Another street sign can be seen upended against a wall.
There are very few residents out and about, the street is extremely quiet in the aftermath of last night's crash.
Instead, the area is populated by police officers, highways maintenance workers, electricity board staff and reporters.
People are not currently being allowed into the street to lay flowers, just a couple of bunches have been left on the street corner next to a cuddly toy.
---
Police said they were met with a scene "of carnage", at about 16:00 GMT on Monday.
Ch Insp Norman Pascal, from Avon and Somerset Police, said officers were "starting to get a picture" of the events.
A collision investigation team worked through the night to start establishing the cause of the crash. Mr Pascal said that work would continue on Tuesday.
"There are still inquiries to be made, even though the lorry has been taken away, that will still need to be examined again," he added.
"We need to make sure we speak to everybody and pick up all the clues, so we get a clear understanding of why this tragedy happened."
Police said garden walls were knocked down in the crash and some windows on nearby houses were smashed by flying debris.
Sean McCostlin, who lives on Lansdown Lane, described the incident as "shocking".
"I heard the horn [of the truck] blare about twice and it went really quickly by the house," he said.
"It wasn't normal, you don't hear that on the street at all. I knew something was up."
A spokeswoman for South Western Ambulance Service said a patient taken to Southmead Hospital in Bristol by air ambulance was in a critical condition.
Two men and a woman were admitted to the Royal United Hospital in Bath with "multiple" but "not life-threatening" injuries.
Two of the casualties were kept in overnight as a precaution, but the third had been discharged, he added.
Don Foster, Liberal Democrat MP for Bath, said the community was "in shock".
"It is a road where we have put speed limits in and flashing lights because it is quite a steep hill coming down," he said.
"We are still waiting to get more details as to what the cause was. It is obviously devastating, tragic and awful, but until we know more we cannot speculate."
Patrick Whitworth, the rector of All Saints Church, said he would be offering support to local people following the accident.
A church service will be held there later.
"The school will be closed today because the accident's right outside the school," he said.
"It's a wonderful community at the school...The children, obviously, will be very deeply affected by what's happened."
Bath and North East Somerset Council said the nearby Weston All Saints Primary School would be closed on Tuesday.
Police said Lansdown Lane would stay closed until at least lunchtime.
---
Do you live in the area? Did you witness the accident or the emergency response? Email your experiences to haveyoursay@bbc.co.uk
Please include a contact number if you wish to be contacted by a BBC journalist.